from Fionnuala Shenpen, School Director.
In April 2014 TGS reopened for our second full school year. As the school is now running lower KG, Upper KG and classes 1 to 5 we welcomed three new lay teachers to our staff. There was some internal re-structuring as we shifted to class teaching rather than Grade teaching from Classes 1 and 2 and also added Science for classes 1 to 5.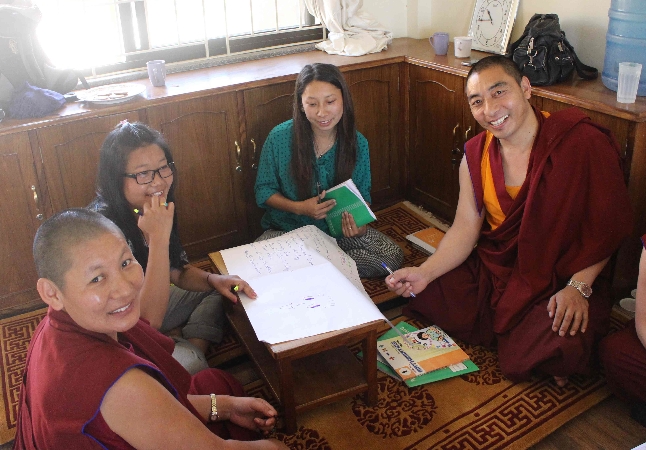 This year we are very happy to be working with the award winning Rato Bangala Foundation. They have tailored an ongoing year long teacher training program for TGS staff. The programme began with a day-long workshop which included all school staff, representatives of the Gompa, the RBF Project manager and all trainers. The workshop focused on aims and plans for the development of the school.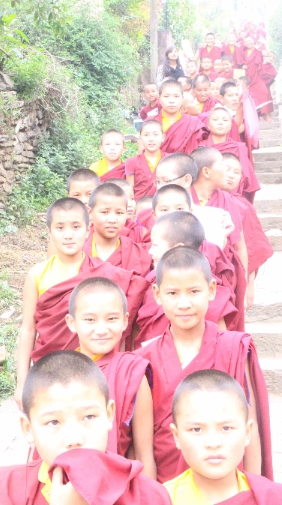 In early June, we had our first science field trip! Classes 2 to 5 went to the Horticultural Development research & Training Centre. As it is just a short walk from our school through the picturesque Chobhar village, the nuns paired up and we made a walking bus – a good chance to practice the road safety rules they are learning in school! On arrival one of the gardeners at the Horticultural centre gave us a guided tour explaining the names and uses of the many trees and plants they have. There were tea bushes, flowering plants and many fruit trees including a variety of Naspathis (Green Pear) coming from our local Pharping famed for their sweetness. The nuns were very excited to learn about all the different varieties of plants and fruits and enjoyed sketching the plants with their clip-boards.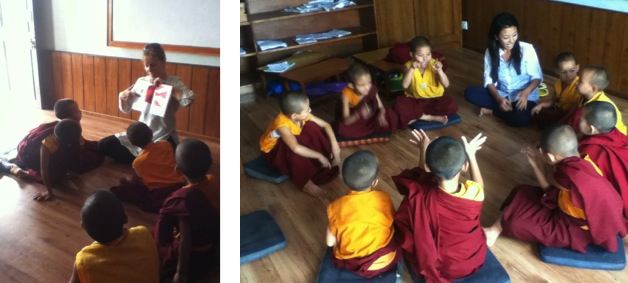 July 2014, Kindergarten Teacher from New York, and veteran Nepal visitor, Kathryn O'Connor, spent three weeks with us supporting our Kindergarten and Class one teachers. As Kathryn has extensively studied the state of early childhood education in Nepal she was immediately able to respond to our needs. She inspired our staff with great book-making ideas and quickly won the hearts of the nuns. She guided us in purchasing some games and toys for the lower grades at our local early learning shop. She even documented all her work and created a great photo album for us. Have a look here! Huge thanks from all of us Kathy & we hope to see you next year!
I wish I could share with you the happy vibe that is growing around our school. We all feel very lucky to work in such a pleasant and positive environment and to have so many opportunities to grow and develop. This just won't be possible without all of your continued contributions.
So on behalf of all of us: nuns, genlas, lay teaching and admin. staff, I would like to sincerely thank you all!
Fionnuala Shenpen, School Director.